Hi guys and gals, I hope you are keeping safe and well in these unprecedented times. We wish everyone on the front line of this epidemic along with those working in other essential services our best wishes and sincere thank you.Obviously we have no idea when we will be allowed to return the sport we all love so much which I imagine is as frustrating for all of you as it is for me.
During these difficult times Waterford Raceway still has ongoing overheads that need to be tended to and with this in mind and the fact people are looking for a challenge while adhering to the advice regarding Covid-19, we are proposing a virtual championship on 'Dirt 2.0' on Xbox and Playstation. We are looking at running 13 rounds with 8 stages in each rally.
Brian Weston of Weston Electrical has come forward to sponsor 'The Waterford Raceway Virtual Championship' (WRVC) with a pepetual cup for 1st and 2nd overall. The cost will be €10 per player with all proceeds going to the club we love being involved with. If you are interested in participating, please let us know through facebook or the club phone number 086 8936714 by midnight Friday 3/4/2020.
Stay safe & happy racing
Regards
Anthony Lawton
Chairman
Items for Sale
---
Calendars, woolly hats & caps are available on racedays or contact us 
Keep Reading
---
Buy Now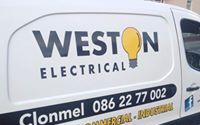 Weston Electrical
Latest Posts
---